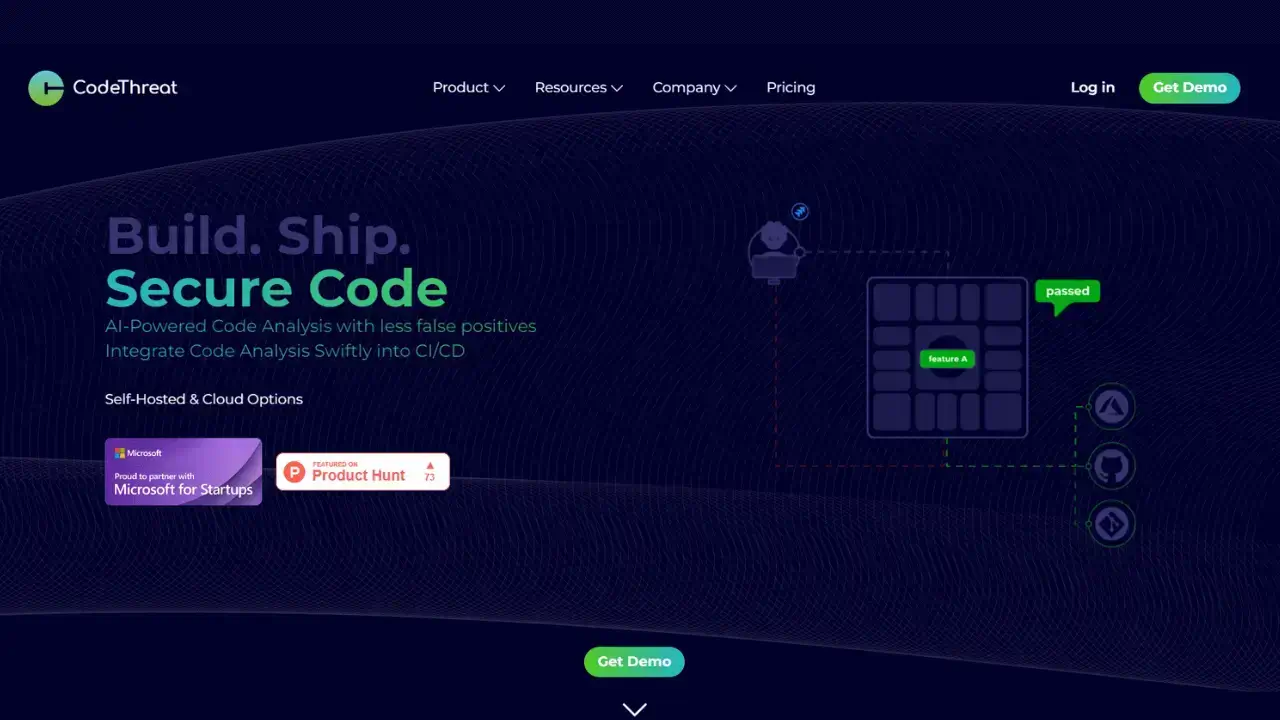 CodeThreat AI is the ultimate solution for AI-powered code security. Using CodeThreat's modern static application security testing (SAST) ability ensures that your code is robust and secure without any tension.
Key Features of CodeThreat AI:
Seamless Integration: CodeThreat directly works in your development pipeline and makes secure your private information.
Wide Language Support: CodeThreat supports a wide range of languages, from Python to Java it supports a broad spectrum of programming languages.
Real-Time Insights: It helps users by reporting them in real time and grants instant visibility into the user's code security status.
Accessible Design: CodeThreat's unique interface helps users and team members with a lot of verified experts and ensures that everyone has a contribution to code security.
Advanced AI Detection: Using the modern and advanced AI ability and unique dataflow analysis strategy, CodeThreat can identify potential vulnerabilities every time.
Focused on Accuracy: CodeThreat aims to ensure that the details you receive are accurate and positive.
Swift Scanning: Without code compilation, you can save valuable time. You can scan your projects in just 5 minutes, it will increase your efficiency in the development process.
Free Trial: Discover the new power of CodeThreat without taking any risk with their free trial and see how an AI can increase your code security status.
Use Cases for CodeThreat AI Review:
Precision and Efficiency: The AI-powered analyses power of CodeThreat ensures the detection is accurate with minimum false positives.
Integration Ease: Increase your development process day by day and promote secure coding systems as a regular practice.
Real-Time Response: Always stay one step further by real-time reporting. It will help you to enable swift and effective security responses.
Inclusivity: The design of CodeThreat is user-friendly and every member can collaborate in the process.
AI Excellence: Use the advanced AI power for in-depth code analysis and secure your applications.
Time savings: Without consuming time and effort, scan your code and increase productivity.
Risk-Free Explorations: Try CodeThreat through their free trial and experience the advantages of AI-driven code security systems.
Summary:
Overall, CodeThreat AI can be a better way to secure your codes. It analyses with minimal false positives. It increases the development pipeline day by day and gives real-time insights for quick action. CodeThreat has a wide range of language support. You can experience the future of code security with CodeThreat's user's accessibility, modern AI ability and ensuring accuracy.
How to use CodeThreat AI for free?
Remember that the availability of free usage, features, and terms can change over time. Always refer to the official documentation and website of the tool for the most accurate and up-to-date information on how to use "CodeThreat AI" for free or otherwise.
CodeThreat AI Alternative