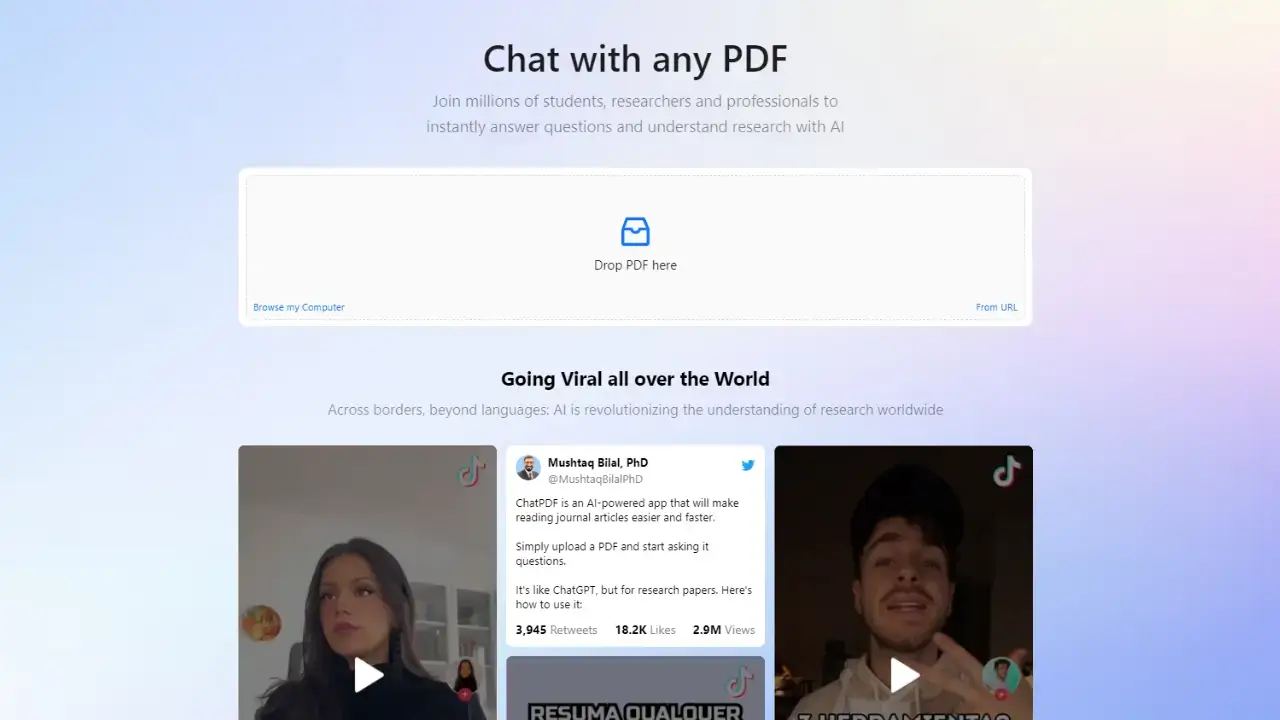 ChatPDF AI You may talk with your PDF documents with ChatPDF – Chat with any PDF!, an AI-powered application. It might provide you with answers, collect data, or even summarize your written work.ChatPDF AI is recommended for students, researchers, and anybody else who must work with a large amount of PDF data.
Key Features of ChatPDF AI:
Ask Questions and Get Answers: Use ChatPDF AI to get quick replies to your questions. ChatPDF AI can provide you with word definitions, section summaries, and particular information from your PDFs.
Information Extraction: Utilize ChatPDF AI to extract essential data from your PDF documents. The retrieved data may be presented in a variety of ways, including tables, charts, and graphs, using the program.
Document Summarization: Say goodbye to long reading sessions. ChatPDF AI can provide succinct summaries of your PDF papers, giving you a rapid overview without the need to read the complete text.
Benefits of Using ChatPDF AI:
Time-Saving and Enhanced Productivity: You may streamline your workflow and complete jobs more efficiently by exploiting ChatPDF AI's capabilities, eventually saving critical time.
User-Friendly and Accurate: ChatPDF AI uses natural language processing and machine learning algorithms to properly interpret your inquiries and provide exact solutions.
Secure and Protected: With ChatPDF AI's comprehensive security safeguards, you can be certain that your data is protected.
Use cases for ChatPDF AI Review:
Follow these easy actions to reap the benefits of ChatPDF AI:
Create an account on the ChatPDF AI website.
Add your PDF files to the platform.
Begin interacting with your papers via chat, experimenting with the many functions available.
Free Usage and Premium Options:
ChatPDF AI operates on a freemium basis, offering both free and premium plans. The free plan allows you to interact with up to ten PDF documents each month. A premium subscription is offered for individuals who need limitless access and more features.
How to Use ChatPDF AI? Ultimate Guide for Beginner
How to Use ChatPDF AI for Free:
Go to the ChatPDF website using the provided link.
Select the 'Drop PDF here' button.
Select the PDF file you want to examine.
Once ChatPDF AI has completed the analysis, you will be greeted with an interface similar to ChatGPT.
Now you can ask inquiries regarding the contents of your file or investigate the suggested questions.
It's vital to remember that the free plan has a restriction of three uploads each day, each with a maximum of 120 pages per document. If you need more capacity, ChatPDF has a $5/month premium account that allows up to 50 daily uploads of 32MB PDF files, with a limit of 2000 pages per file.
Pros and Cons of ChatPDF AI
Pros:
Simple to use
The free tier is really generous.
Multiple languages are supported.
Can provide answers to a wide range of PDF-related questions
It is possible to produce summaries, translations, and new PDFs.
Cons:
Not as precise as other PDF processing programs.
unable to do sophisticated mathematical or statistical computations
There is no Chrome extension or private document capabilities available.
conclusion
ChatPDF AI is an extremely useful productivity tool for extracting information from large PDF files and encouraging learning and efficiency. Its simple design and advanced capabilities make it a must-have for everyone who works with PDF files.
ChatPDF AI Alternative:
If you're looking for alternatives, consider the AI-powered tools listed below:
PDF AI: innovative AI platform that brings your documents.
Humata: Interact with AI for any file-related queries.
PDFGPT AI: Obtain summaries of your PDFs and ask questions about them.
ChatwithPDF AI: Use the ChatGPT plugin created specifically for PDFs.
AskYourPDF AI: Use a ChatGPT-powered PDF chatbot.
PaperBrain: Utilize AI to interact with research papers.