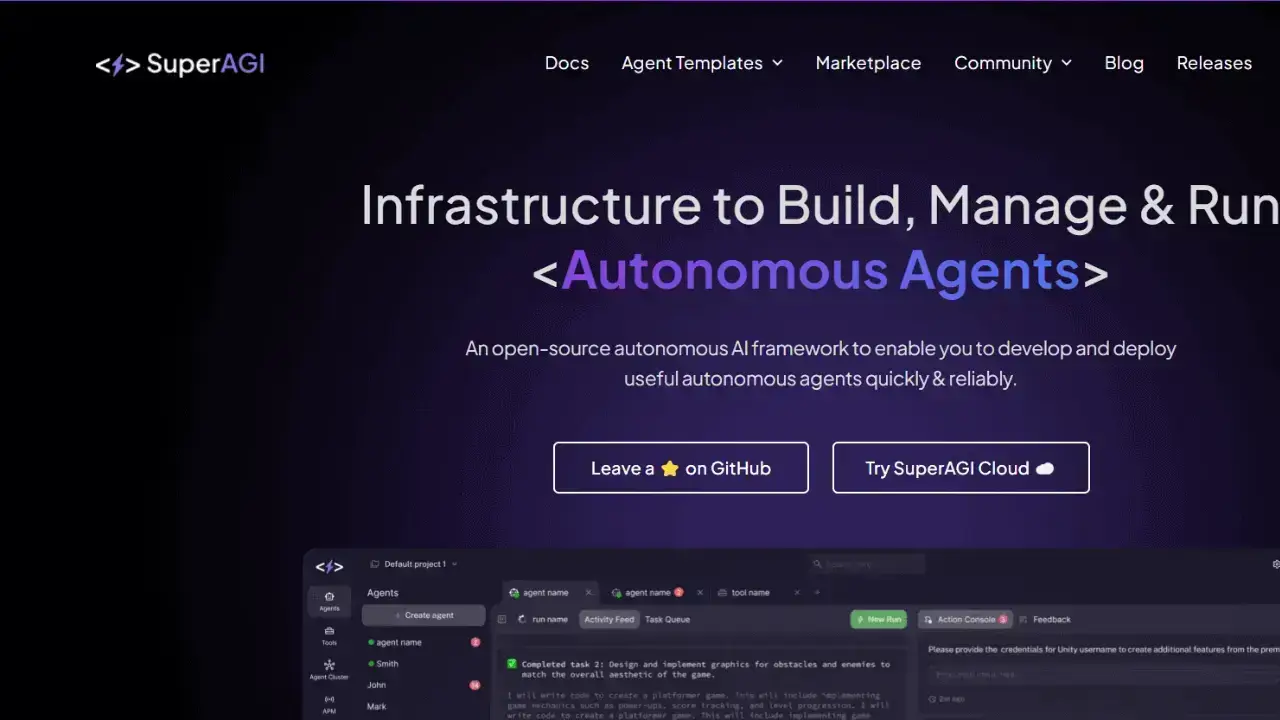 SuperAGI AI Cloud is a powerful AI platform that offers similar features to SuperAGI AI, along with some exciting additional capabilities. With SuperAGI Cloud AI, users can enjoy a seamless experience without the need to build SuperAGI AI locally using Docker. As an alternative, you may quickly sign up using your GitHub account and begin.
Key features of SuperAGI AI:
Agent Provisioning and Execution: SuperAGI Cloud AI allows you to run multiple agents concurrently, maximizing efficiency. You can expand the capabilities of these agents by utilizing a growing library of tools or creating custom tools tailored to your specific needs.
User-Friendly Interface: It's simple to manage and communicate with your agents thanks to the platform's graphical user interface (GUI). It also offers an action console for direct input and permissions management. Additionally, SuperAGI AI supports multiple Vector DB connections, which enhances agent performance and data access.
Customizable Multi-Model Agents: With SuperAGI Cloud AI, you can create multi-model agents that are tailored to perform specific tasks. Additionally, you can modify the agents' trajectories such that they can utilize feedback loops to learn and improve their performance.
Performance Telemetry: Gain valuable insights into your agent's performance through performance telemetry. This feature enables you to optimize and improve your agents effectively. SuperAGI Cloud AI also emphasizes efficient token management, ensuring a balance between cost and usage.
Continuous Learning and Adaptation: Agents can record their experiences in the SuperAGI Cloud AI, facilitating ongoing learning and adaptation. The platform uses looping detection techniques to alert developers when an agent is stalled, enabling proactive remediation of looping issues.
Resource Manager: SuperAGI Cloud AI includes a resource manager for the efficient handling of files generated by your agents. This ensures streamlined data management and analysis.
Use Cases of SuperAGI AI Review:
Experience the Power of SuperAGI Cloud AI today and unlock the full potential of your AI projects. Sign up with your GitHub account and enjoy a hassle-free AiTools development journey!
How to use SuperAGI AI for free?
Remember that AI development is an ongoing field, and new offerings and pricing models may emerge over time. Stay informed about the latest developments in the AI industry to discover any opportunities for free or affordable AI services.
SuperAGI AI Alternative