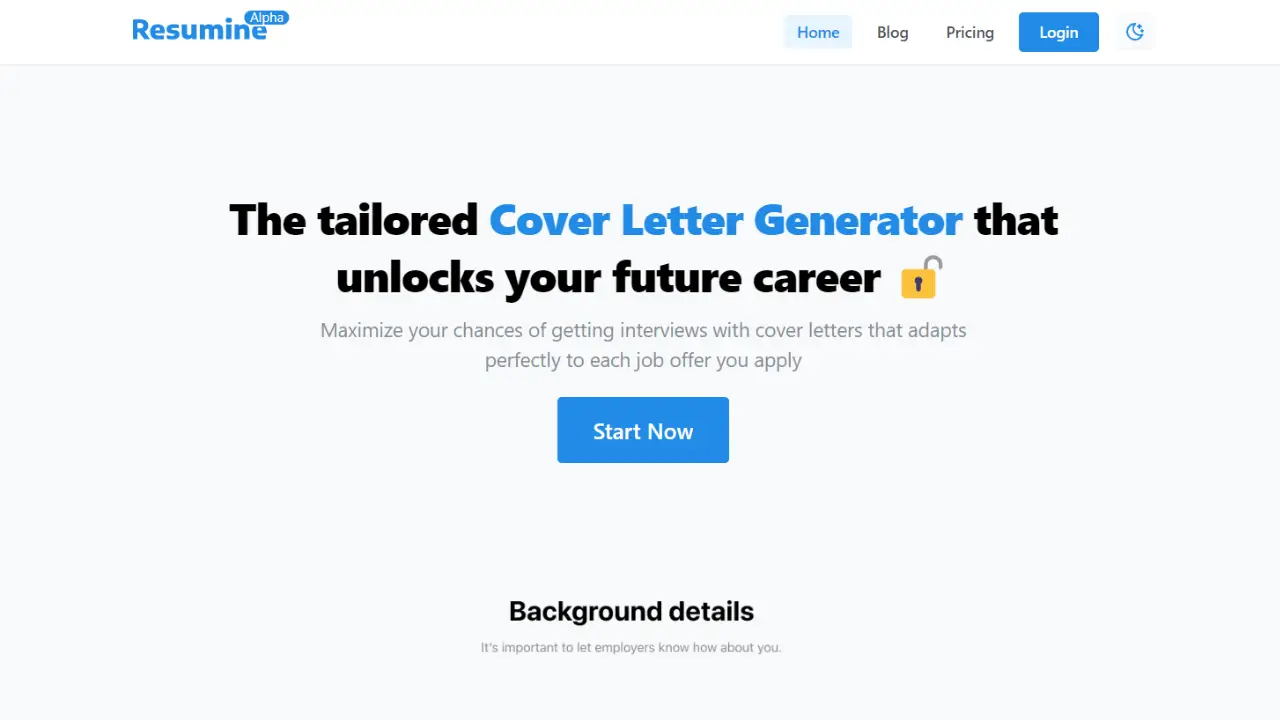 Resumine AI can be your partner who can help you to make compelling cover letters that make a better impression. Resumine.io is powered by OpenAI's GPT-4 language model and it offers an effective way to generate cover letters that save your valuable time and effort. It ensures you can make impressions in job interviews.
Key Features of Resumine AI :
Automated Efficiency: Resumine can generate automatically cover letters that are useful for applying to various companies in succession.
Tailored Personalization: It's time to generate templates automatically. Resumine AI helps to generate personalized cover letters that can match the job offer and show your skills and experiences.
Stand Out from the Crowd: Using the best technology Resumine aims to boost your chance to make a better impression on other applicants by creating cover letters creative and unique and that can catch the attention of hiring managers.
Free to start: You can start with two free cover letters and receive one free credit per week. If you need to, you can buy more credits.
Privacy Assurance: Resumine AI aims to keep secret your privacy and ensure that your data will be kept safe and not shared with third parties.
Use Cases for Resumine AI Review:
Time Savings: Time to say goodbye to the time-consuming cover letter-making process, Resumine can save both your time and effort.
Personalized Impact: You can make specific cover letters for each job offer and highlight your skills and experiences for different types of jobs.
Increased Chances: Increase your chance to make impressions and secure a job in interviews by submitting unique and creative cover letters.
User-Friendly: Resumine's user-friendly interface makes it easier to create and customize cover letters smoothly.
Confidence Booster: Resumine helps you to present yourself positively and shows your potential to other employees with impressive cover letters.
Summary:
Overall, Use modern technology to create cover letters with Resumine.io, Its AI-powered tool is designed to increase your job-securing chances. It generates automatically and offers personalization. Resumine AI aims to secure your data in private and doesn't share it with third parties. If you need versatile language support it can also help. So it's time to experience those who are trying to get a job.
How to use Resumine AI for free?
Resumine AI offers a free plan that allows you to create up to 3 resumes, with unlimited access to its AI resume builder, keyword matching, and resume analysis tools. To use the free plan, you can sign up on the Resumine AI website.
Resumine AI Alternative