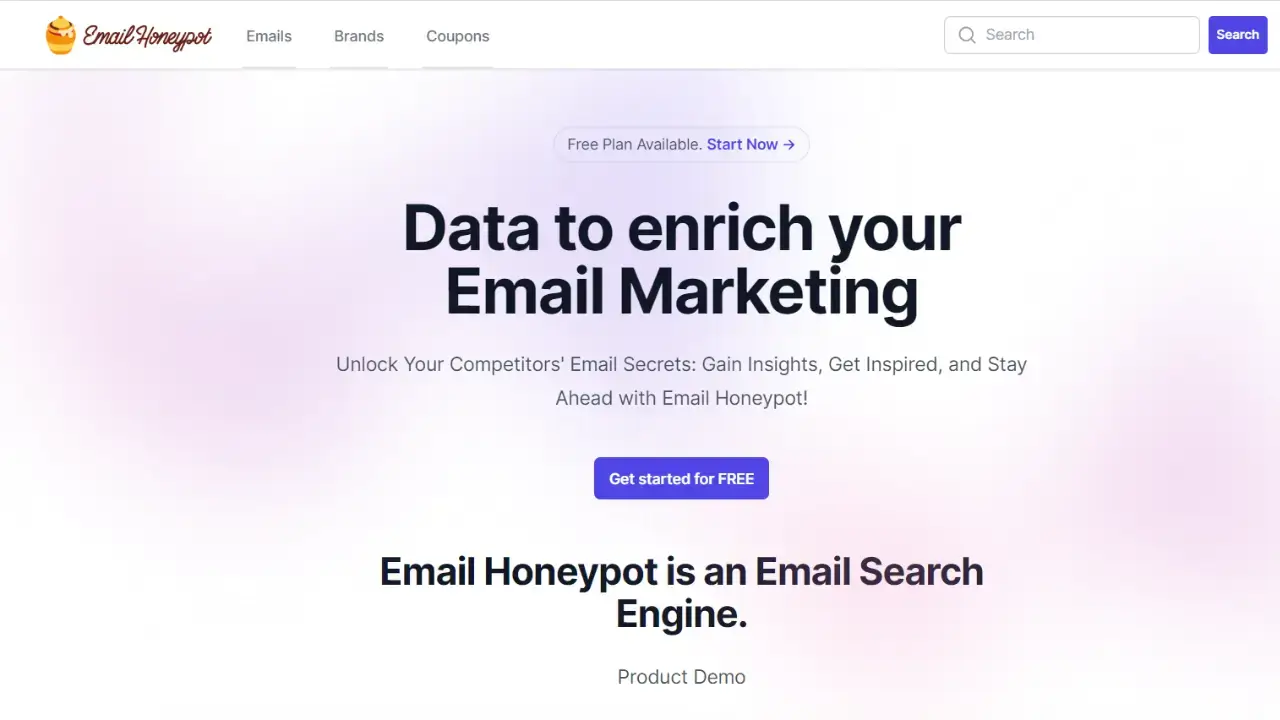 Email Honeypot AI is a powerful email search engine backed by artificial intelligence. Get ready to uncover your competitors' email strategies, gain valuable insights, and stay ahead in the game with Email Honeypot!
Key Features of Email Honeypot AI:
Keyword Frequency Analysis: Discover the most-used words in email subject lines of top brands.
Recent Subject Line Tracking: Stay updated with the latest subject lines used in email campaigns.
Monthly Email Volume Metrics: Understand email marketing efforts by tracking monthly email sending statistics.
Optimal Sending Time Insights: Identify the best times to send email campaigns for maximum impact.
Use Cases for Email Honeypot AI Review:
Explore Thousands of Emails from Leading Brands: Dive into a vast collection of over 1.2 million emails from your favorite brands. Explore captivating headlines, eye-catching visuals, and persuasive ad copy. Curious about their email strategies? We've got you covered.
Peek Behind the Scenes: We don't stop at screenshots. Dive into the HTML and plain text to see the craftsmanship behind those beautiful emails.
Unlock Competitor Secrets: Stay ahead of the competition by discovering the holidays and coupon codes your rivals are using. Gain a competitive edge in the world of email marketing.
Master the Art of Subject Lines: Explore not just subject line ideas but also the strategies that lead to high open rates. Our expert analysis breaks down subject lines from a marketer's perspective, revealing their secret sauce.
Pricing Plans for Email Honeypot AI:
Free: The essentials at $0 per month
Thousands of Emails
1 Included User
Basic analytics
48-hour support response time
Startup: The most popular plan, designed for your growing business, at $32 per month
Millions of Emails
Growing Library of 500k+ Emails
Advanced analytics
24-hour support response time
Boards & Folders
Pro: Dedicated support and infrastructure for your company, priced at $48 per month
5 Included Users
AI Email Templates
Landing Page Screenshot
1-hour dedicated support response time
Marketing automation
In Conclusion: Dominate Email Marketing
Overall, Start using our app today to gain insights, outperform your competitors, and maximize your ROI with Email Honeypot's intelligent tools.
How Does Email Honeypot Work?
Strategically placed email addresses lure a wide array of marketing emails. These emails are then meticulously analyzed, offering brands a panoramic view of industry trends.
How do Email Honeypots capture emails?
Strategically positioned email addresses attract marketing emails, which are then collected and scrutinized.
What is The Future of Email Marketing?
As AI advances, the future of email marketing is brimming with possibilities. Think predictive analytics, hyper-personalization, and seamless integration with other marketing channels.
Email Honeypot AI Alternative