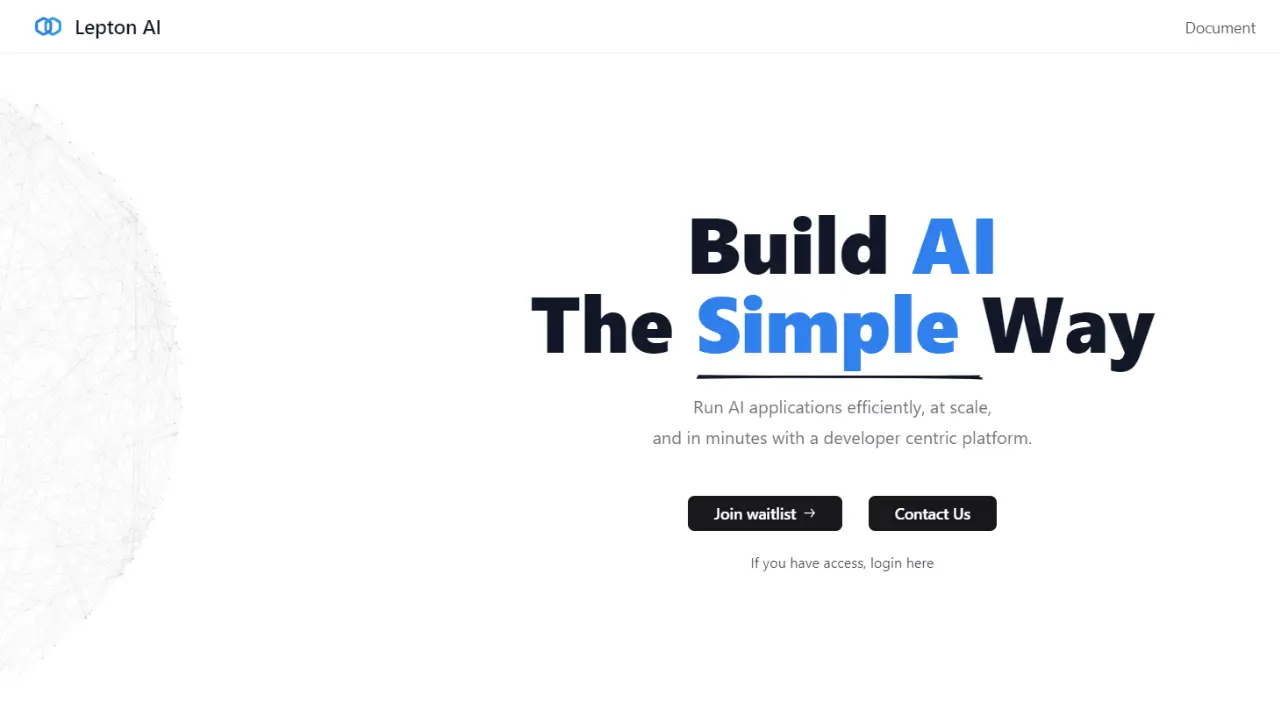 Lepton AI brings revolution to the platform of developers who create and develop applications with efficiency and scalability. Lepton AI focuses on simplifying the process of development and offers a direct solution to harness the power of AI for developers.
Key Features and Lepton AI:
Developer-Centric Platform: The platform is especially made for developers and offers a direct and effective way for making and implementing AI applications.
Efficient Development and Deployment: While using this tool developers can expedite the creation that was a positive side for developers and it can help to grow their profit from various. platforms.
Workflow Streamline: Keep developers in mind it suggests a simple way to tailor the AI development workflow and helps to enable the professionals to create AI solutions easily.
Comprehensive Documentation: This tools platform has a dedicated document section that provides users with various resources and helps them through the capabilities of the tool.
Reference Section: Lepton AI has also a reference section that contains additional information on AI concepts for best guidelines to increase users' understanding
Practical Examples: Lepton AI's dedicated section named GitHub contains practical examples and code snippets for users who want to discover and learn more and more.
Use Cases for Lepton AI Review:
Effortless AI Development: The platform makes a simple and easy way to build AI applications and helps developers to create applications more unique.
Rapid Deployment: Within a moment developers can deploy AI applications at scale and increase the chance of productivity.
Developer-Friendly: Lepton AI is specially made to keep developers in mind and offers a user-friendly interface to the experience that is needed.
Summary:
Overall, Lepton AI is a simple and unique way to empower developers to create and develop AI applications without consuming time and effort. It aims for simplicity and efficiency so that the platform offers direct solutions for developers and makes it easy to manage documentation. Practical examples are useful for users to explore more and earn profit from this. So here is the Lepton AI platform which can bring revolution in the AI application building section.
How to use Lepton AI for free?
Lepton AI is currently in limited beta, with no public free trials available. You can, however, sign up for the waitlist to be notified when a free trial becomes available. Go to the Lepton AI website and click the "Join Waitlist" button to join the queue.

You will be able to utilize Lepton AI to design and deploy AI apps for free once the free trial is available. The free trial will have some limits, but it will still allow you to test out the platform and determine whether it is perfect for you.

Lepton AI offers a premium package in addition to the free trial. The premium subscription begins at $99 per month and provides access to additional features and capabilities.
Lepton AI Alternative
Eesel AI
Durable
Tome
WorkplaceAI