Hostinger AI Website Builder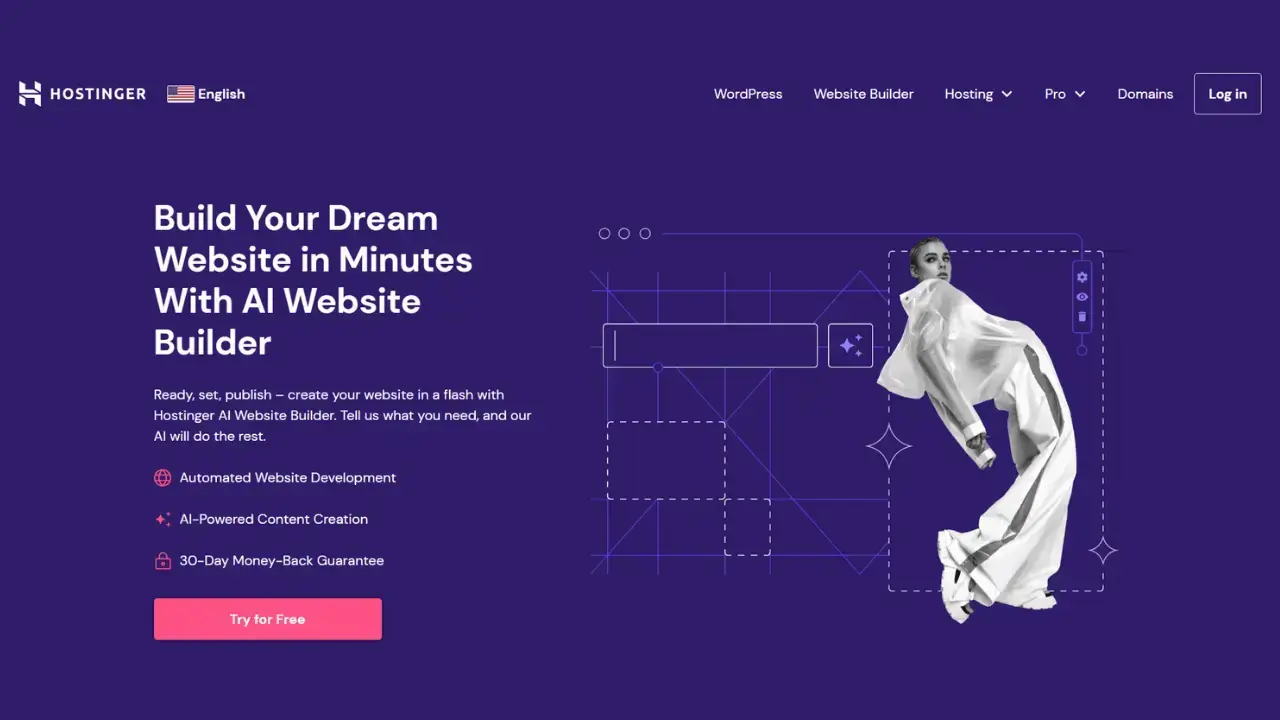 Hostinger AI Website Builder Are you ready to create a website but need coding knowledge? Look nothing else! Hostinger AI Website Builder is here to help. With the help using this simple tool, you can create a stunning website quickly and with ease using artificial intelligence. The best part? It comes with all Hostinger web hosting plans, starting at just $1.99 per month.
Getting started is a breeze. First, create an account with Hostinger. Select a design after that and start building your website using this. You're likely to find the ideal match for your concept to the more than 100 templates available, which span various domains and purposes.
Once you've settled on a template, the AI website builder will prompt you with a few questions about your business. Your website's text, image, and video material will be shaped in part by the responses you provide.
Key Features of Hostinger AI Website Builder:
AI Website Generator: No need to stress over design details. Just describe your brand and the type of website you want, and the AI will take care of the rest. It will create unique content, select royalty-free images, and even pick the right color scheme and fonts.
AI Writer: Short on time or writing prowess? Give AI access to give you interesting facts on lots of topics.
AI Logo Maker: Forge a professional logo effortlessly. The AI will produce lots of logo designs suited to your brand when you enter the data of your company.
AI Heatmap: Understand how visitors interact with your website using mouse movement and click tracking. Decide what has to be improved and what is amazing.
SEO Tools: Boost your website's visibility with SEO tools like automatic sitemaps, meta title, and description generators, and alt text suggestions.
Drag-and-drop Editor: Tailor your website's design and layout with ease. Move, add, and remove elements in just a few clicks.
Free Domain Name: Get a free domain name for the first year with your Hostinger AI Website Builder plan, saving you upfront costs.
Unlimited Bandwidth and Storage: No worries about size restrictions. Build a website as big and complex as you need.
24/7 Customer Support: Need assistance? Hostinger offers 24/7 customer assistance to assist you in everything.
Use cases for Hostinger AI Website Builder Review:
Personal Websites: Showcase your work or thoughts with a personalized website. The AI designs it for you; you can then customize it using the drag-and-drop editor.
Business Websites: For small businesses, AI creates a professional website tailored to your needs. It can create content, make logos, and even analyze visitors.
E-commerce Websites: Start selling online with ease. Artificial intelligence (AI) also builds product pages, shopping carts, and checkout procedures in addition to optimizing search engines.
Non-profit Websites: Raise awareness for your cause. The AI helps create content and logos, and even design fundraising campaigns.
Creative Websites: Artists and musicians can showcase their work through a website. The AI assists in content generation, portfolio creation, and blog design.
Pros and Cons of Hostinger AI Website Builder:
Pros:
Easy to use
Affordable
Includes a free custom domain name
Unlimited bandwidth and storage
AI-powered website generation
Drag-and-drop editor
Built-in SEO tools
Cons:
Some templates might feel generic
AI generator may make occasional errors
Drag-and-drop editor has some limitations
In the final analysis, Hostinger AI Website Builder is an excellent tool for creating websites quickly.
Good websites can be created without coding knowledge. It is a reasonable option included in Hostinger's web hosting services.
Overall, Hostinger AI Website Builder empowers you to create a captivating website without coding expertise. If you're seeking an affordable and user-friendly website builder, look no further than Hostinger AI Website Builder.
Hostinger Ai Website Builder Review 2023 Youtube
Is Hostinger AI Website Builder Free?
No, Hostinger AI Website Builder is not free. However, for a free AI website builder, consider Wix Artificial Design Intelligence (ADI).
Hostinger AI Alternative
Bluehost
HostGator
A2 Hosting