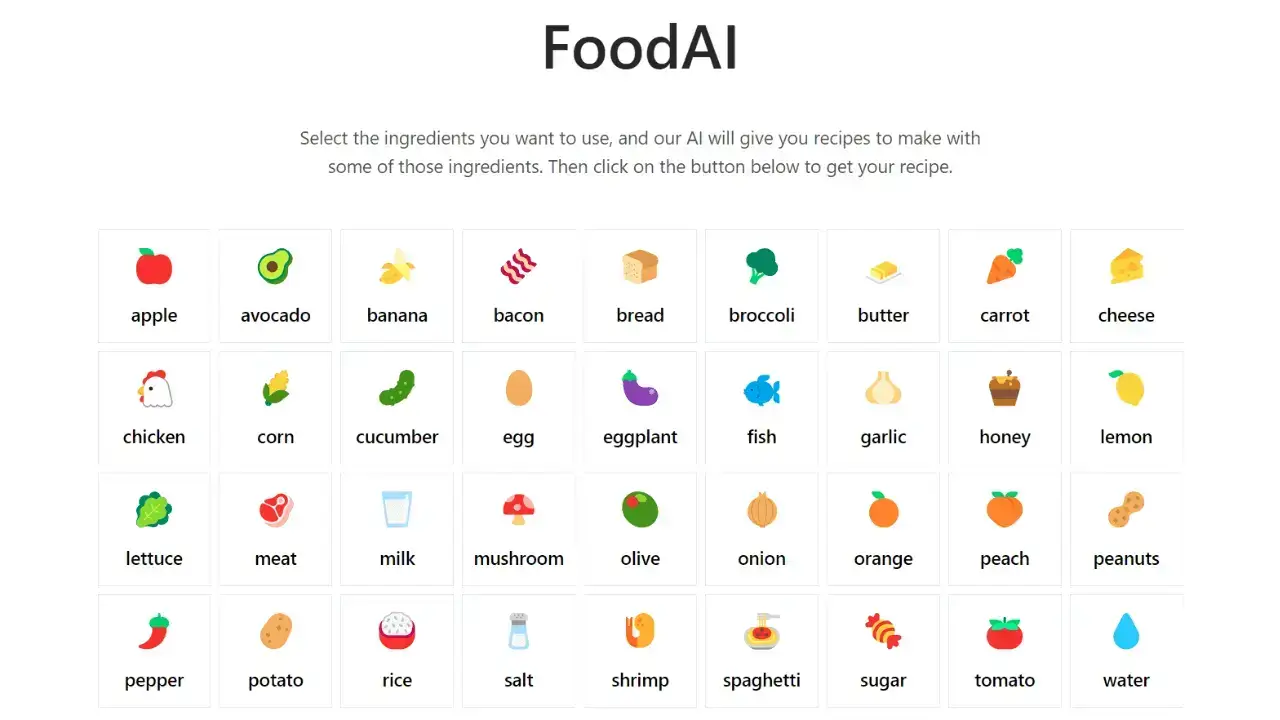 Food AI is a cutting-edge web application that employs artificial intelligence (AI) to assist you in developing delectable recipes. With FoodAI.app, you can easily discover new and exciting dishes, all generated by a smart AI model called GPT-3. This model has been trained on a vast collection of 1.5 million recipes, ensuring a diverse range of culinary options.
Key Features of Food AI:
AI-Generated Recipes: FoodAI utilizes the GPT-3 model to generate unique and diverse cooking recipes. These meals will make dining an exciting and adventurous experience because they are unlike anything you've ever seen.
Ingredient-Based Search: If you have specific ingredients on hand and want to make something delicious with them, FoodAI is here to help. Simply input your desired ingredients, and FoodAI will generate recipes that use those ingredients creatively.
Customization Options: FoodAI provides additional filters to refine your recipe results. You can select extra ingredients, specify dietary preferences (such as vegetarian or vegan), or explore recipes from different culinary regions. You might discover recipes in this way that are ideal for your preferences and requirements.
Free Trial Period: We provide a 30-day free trial so you can have an opportunity to use FoodAI to its full potential. During this trial period, you can explore all the features and benefits of the application without any cost.
Affordable Subscription: Following the trial time, you have the option to subscribe to FoodAI for just $0.99 per month. This affordable subscription ensures that you can continue enjoying the convenience and creativity of FoodAI's recipe suggestions.
Diverse Recipe Database: FoodAI boasts a wide range of recipes, catering to various tastes, preferences, and dietary needs. Whether you're looking for traditional dishes, international flavors, or specialized diets, FoodAI has you covered.
Use Cases of Food AI Review:
Finding Creative Recipes: If you have limited ingredients at hand and want to make something unique, FoodAI can suggest creative recipes based on what you have available.
Discovering New Flavors: FoodAI helps you explore new flavors and combinations to enhance your culinary experiences. It's a terrific way to branch out and increase the variety of your meals.
Dietary Preferences or Restrictions: Whether you follow a vegetarian, vegan, or any other specific diet, FoodAI can generate recipes that adhere to your dietary preferences or restrictions.
Exploring Culinary Regions: With FoodAI, you can explore recipes from different culinary regions and styles. Travel the world through your taste buds and discover diverse cuisines.
Building a Repertoire: FoodAI is a fantastic tool for home cooks who want to build a repertoire of delicious, homemade meals. You'll never run out of ideas or get stuck in a culinary rut.
With AI-generated recipe suggestions, FoodAI gives you the power to maximize your ingredients and gourmet tastes. FoodAI.app is a vital resource for home cooks, food enthusiasts, and anybody looking for culinary inspiration because of its user-friendly layout, adaptable filters, and reasonable price.
How to use Food AI for free?
Don't miss out on the opportunity to create amazing dishes with FoodAI. Try our 30-day free trial and unlock a world of culinary possibilities!
Food AI Alternative