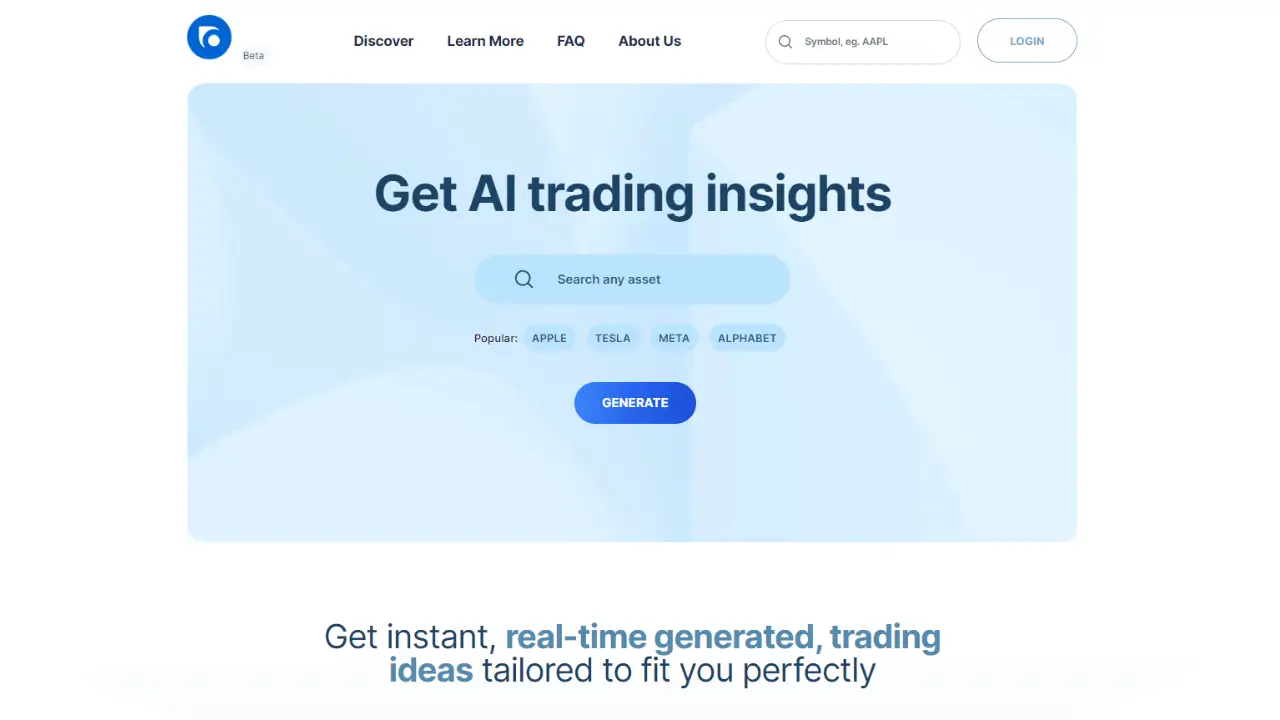 Hoops AI is a cutting-edge web application which was designed to provide real-time trading details and analysis for retail investors in the stock market. Using its modern technology helps more useful trading ideas for users. The web application covers a big array of assets, stocks, currencies, commodities, and cryptocurrencies.
Key features of Hoops AI:
Personalized Trading Ideas: HoopsAI research over fundamental, technical, and social trends to generate the idea of trading and match all customers needs. This application guarantees users about their details and helps to reach out their trading goals.
Fresh Insights: The platform gives demanding Ideas for every user. They react to every single time which helps users to stay updated on the stock market. By this, users have the opportunity to make their trading goals true.
Assets recommendation: HoopsAI offers personalized assets recommendation and ideas for every user. It helps to discover the range of assets besides mainstream options. It also discover more trading opportunitys
Use Cases for Hoops AI Review:
Informed Decision making: HoopsAI gives users real-time trading details and analysis results to help them make more sufficient decisions for trading in the market.
Tailored Strategies: HoopsAl provides customised trading ideas and assets recommendation, users can make their investment more profitable.
Enhanced Understanding: HoopsAI provides tools to the users for understand the market situation, identify trends, and discover more opportunities for their profit.
Important Information:
HoopsAI doesn't gives investment advice and users have to carry the financial risks.
Dont take decisions over the past performance, research the market before making any trading decisions for better future result.
Overall, HoopsAI try to increase the investors market understanding and help themself by informing the real-time trading ideas. Through real-time details and updates, it helps users to discover more opportunities and best strategies.
How to use Hoops AI for free?
To sign up for the free trial, go to the HoopsAI website and create an account. After creating an account, you will have 14 days to use the free trial features. If you wish to continue using HoopsAI after the 14-day trial period, you must upgrade to a premium plan.
Hoops AI Alternative