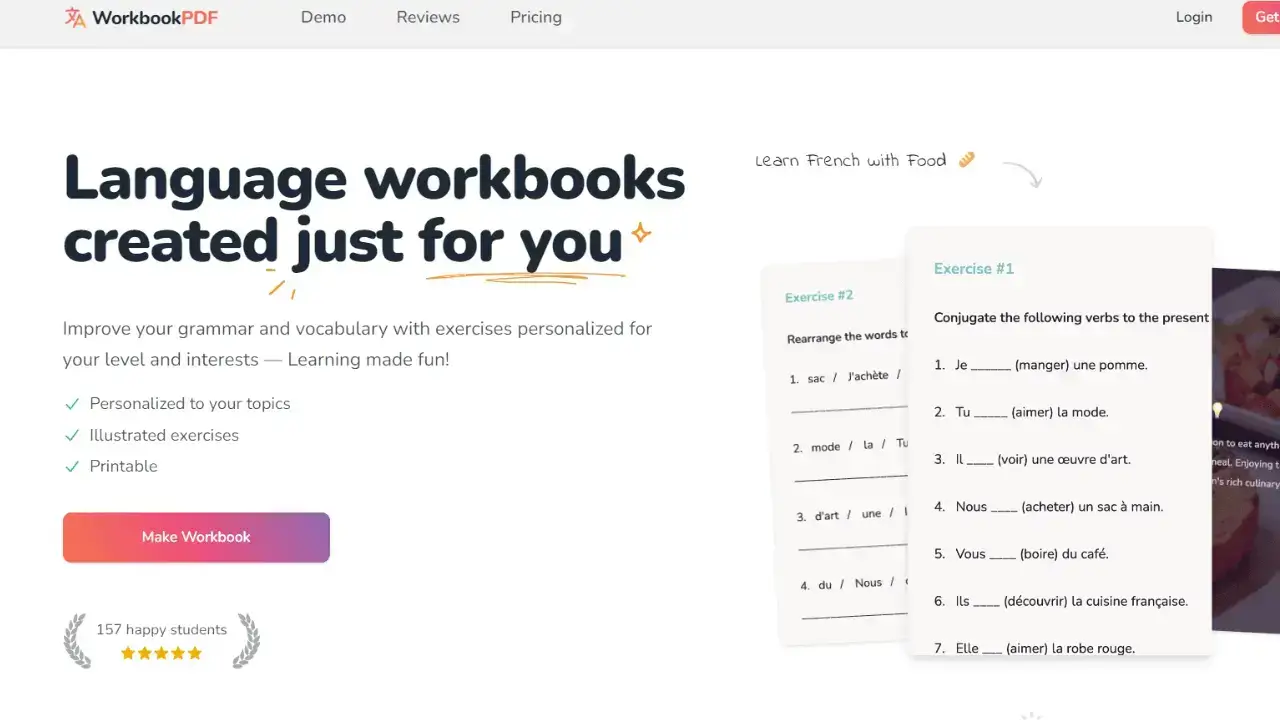 WorkbookPDF AI is not just another language tool – it's your trusted companion on your language-learning journey. Whether you're interested in English, Spanish, French, or other languages, WorkbookPDF is here to help you master a new language.
Key Features of WorkbookPDF AI:
Engaging Activities: Dive into 10 fun exercises designed to improve your grammar and vocabulary based on your interests and skill level. Learning becomes an exciting adventure!
Personalized Experience: Enjoy learning that's tailored to your preferences. The exercises are chosen based on topics you like, making your practice engaging and relevant.
Illustrated Learning: Immerse yourself in exercises that enhance your language skills while also providing insights into different cultures. Visuals bring learning to life!
Printable Convenience: Take your learning offline or stay connected online – it's up to you. The workbook is printable, letting you learn wherever and whenever you want.
Explore Various Languages: Choose from languages like English, Spanish, French, Korean, and more. There's a wide range of options for your language-learning journey.
Comprehensive Practice: Tackle 10 grammar and vocabulary exercises that challenge and reinforce your understanding. Check your progress with answers provided at the end of the workbook.
Cultural Enrichment: Deepen your language journey with cultural insights related to the language you're learning. Illustrations and facts add more meaning to your learning.
Flexible Learning Time: Dedicate 2 to 4 hours to complete the exercises. You'll experience different learning techniques through fill-in-the-blanks, multiple-choice, and more.
Use Cases for WorkbookPDF AI Review:
Choose Your Preferences: Pick your language, current skill level, and favorite topics. Your learning journey will be personalized accordingly.
AI-Crafted Workbook: Within minutes, our advanced AI creates a custom workbook based on your preferences. Your learning materials are ready to go!
Practice and Learn: Start using the workbook! Whether you prefer digital or offline learning, you can practice using the PDF workbook or by printing it. Spend 2 to 4 hours to master new language skills.
Experience the Joy of Learning with WorkbookPDF AI!
Overall, Unlock the joy of language learning with WorkbookPDF! Discover exercises tailored to you, cultural insights, and an interactive journey that makes languages come alive. Enjoy the benefits of personalization and convenience in your language-learning adventure. Choose your language, topics, and level, and let's go on an exciting learning adventure together!
How to use WorkbookPDF AI for free?
Remember, the steps outlined above are based on the general process of using WorkbookPDF AI for free. Depending on the platform's features and updates, there might be slight variations in the exact steps. Always make sure to follow any specific instructions provided on the website to make the most of your language learning experience without any cost.
WorkbookPDF AI Alternative