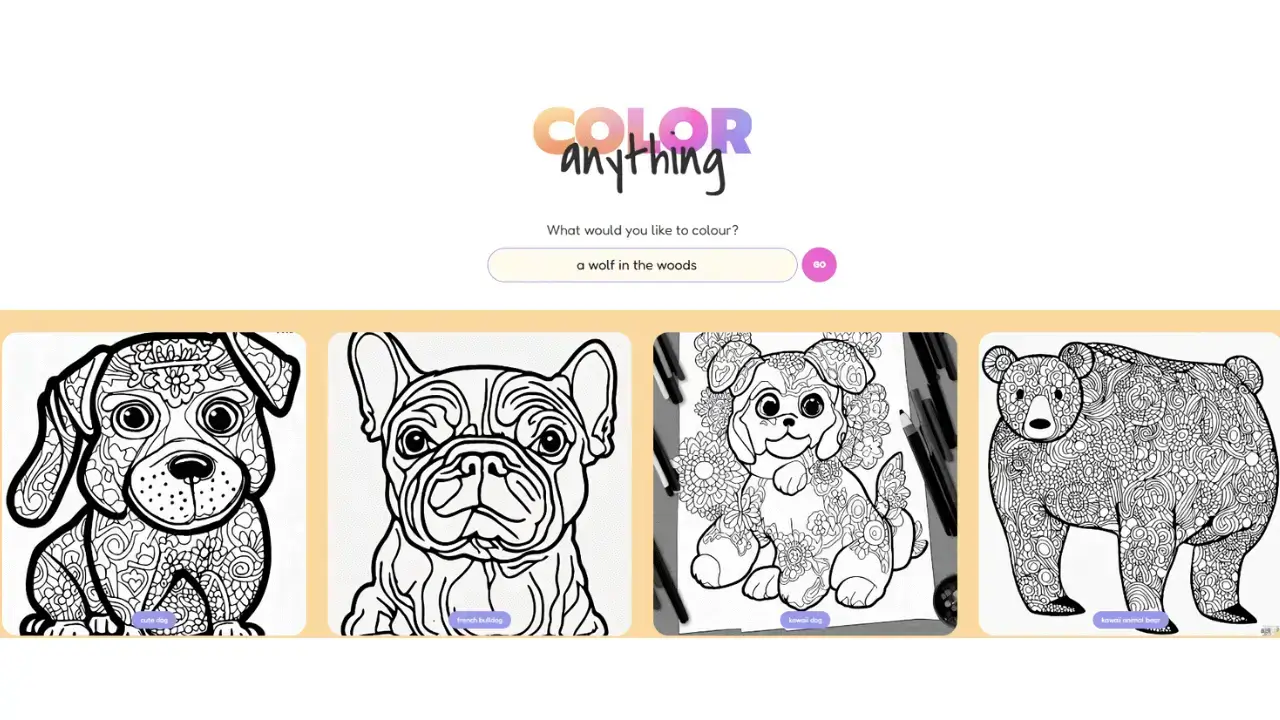 Color Anything AI A ground-breaking program called Color Anything AI uses artificial intelligence to enable you to make custom coloring pages. Whether you want to color animals, characters, or everyday objects, Color Anything AI offers a vast library of images that will spark your imagination and let your creativity run wild.
Key features of Color Anything AI:
Comprehensive Image Library: Color Anything AI boasts an extensive collection of images, ranging from animals to characters to everyday objects. The possibilities for your coloring activities are endless.
Customization Options: With Color Anything AI, you have the freedom to choose your preferred coloring style. You can opt for a classic black pen look, go for a black-and-white design, or select simplified or outline-only coloring options.
User-Friendly Interface: Color Anything AI has a simple and intuitive interface, making it easy for everyone to use. You'll find the tool easy to use whether you're a novice or an expert colorist, delivering a seamless and fun coloring experience.
Personalized Coloring Pages: In just a few clicks, Color Anything AI enables you to create personalized coloring pages that are unique to you. This tool might help you make something special for yourself or a surprise for your children.
Use cases of Color Anything AI Review:
Parents and Educators: Color Anything AI is perfect for parents and educators who want to create customized coloring pages for children. Whether it's a favorite animal or a beloved cartoon character, you can easily generate coloring pages that will delight and engage young minds.
Adults Seeking Creative Outlet: Coloring isn't just for kids! Adults can also benefit from the relaxing and meditative qualities of coloring. Color Anything AI offers a wonderful outlet for adults to unwind, de-stress, and express their creativity.
Artists and Designers: Are you an artist or designer looking for inspiration or reference images? At Color Anything AI, you may find a huge selection of excellent photos that you can use as the foundation for your artwork. Let your imagination soar and use these images as a foundation for your creative endeavors.
Color Anything AI is designed to bring joy, relaxation, and personalization to the world of coloring. With its extensive image library and customization options, this tool allows you to unleash your creativity and experience the therapeutic benefits of coloring. Prepare to set out on a unique and colorful voyage of AI tools color-anything.com
How to use Color Anything AI for free?
Remember, while Color Anything offers a free version, there might be limitations or premium features available for a subscription fee. If you're interested in accessing additional features, check the website for any premium options or upgrades. Enjoy the creative journey with Color Anything AI and have fun bringing your coloring pages to life!
Color Anything AI Alternative