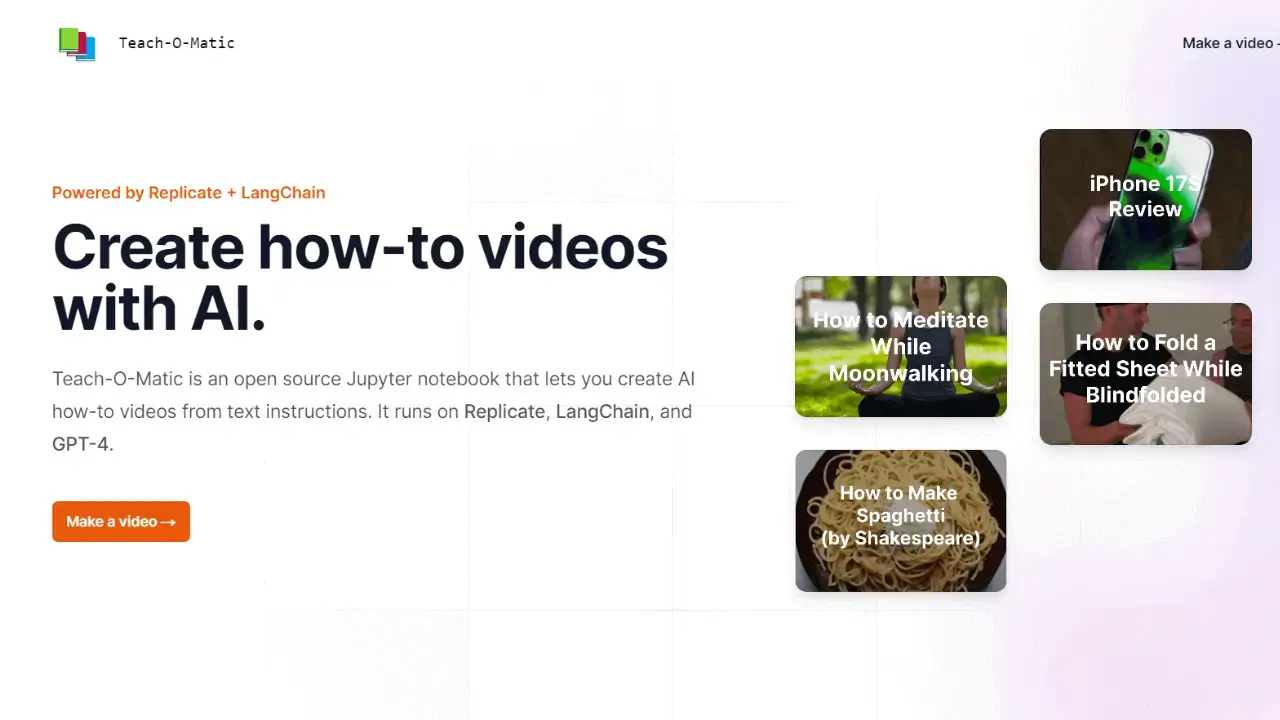 Teach-O-Matic AI is a user-friendly AI tool that allows you to make AI-generated how-to videos from text instructions. It's an open-source Jupyter Notebook that brings together several powerful components like GPT-4, Suno AI Bark, Damo Text-to-Video, Riffusion, Stable Diffusion, and LangChain, offering a complete and seamless pipeline for video production.
Key Features of Teach-O-Matic AI:
AI-Powered Pipeline: Teach-O-Matic combines GPT-4, Suno AI Bark, Damo Text-to-Video, Riffusion, Stable Diffusion, and LangChain to create a step-by-step process for producing how-to videos.
Input Customization: You have the freedom to personalize your videos. Just provide the topic, narrator adjectives, and music style, and Teach-O-Matic will generate tailored video content for you.
Informative and Understandable Videos: Teach-O-Matic aims to create clear, concise, and easily understandable how-to videos. This ensures that viewers have a better learning experience.
open-source and easily accessible: Teach-O-Matic is a free, open-source Jupyter notebook that doesn't require any particular technical information or programming background. It's designed to be accessible to users with varying technical backgrounds.
Examples & Motivating Words: Numerous examples of how-to films produced with the program are available on the Teach-O-Matic YouTube channel. These examples provide inspiration and demonstrate the capabilities of Teach-O-Matic.
use cases for Teach-O-Matic AI Review:
Educational Content Creation: Educators and instructional designers can use Teach-O-Matic to produce engaging and informative how-to videos for educational purposes.
DIY Tutorials: If you're involved in DIY and crafting, Teach-O-Matic is perfect for creating step-by-step video tutorials for various projects.
Software Demonstrations: Software developers can utilize Teach-O-Matic to create video guides and tutorials that showcase the functionalities of their applications.
Teach-O-Matic empowers users to create effective and engaging how-to videos through its AI-powered pipeline.
Conclusion: Optimized for search engines, this article uses simple language to explain the Teach-O-Matic AI tool for producing how-to videos using AI. It highlights key features such as its AI-powered pipeline, customization options, and user-friendliness. The article also covers the various use cases, including educational content creation, DIY tutorials, and software demonstrations. Teach-O-Matic is an open-source application that anybody may use to make instructional movies quickly and easily.
How to use Teach-O-Matic AI for free?
Teach-O-Matic AI can be used for free, yet there can be premium features or extra services at the price of money. If you're interested in accessing additional capabilities, be sure to check the Teach-O-Matic website for any cost information or registration.
Teach-O-Matic AI Alternative