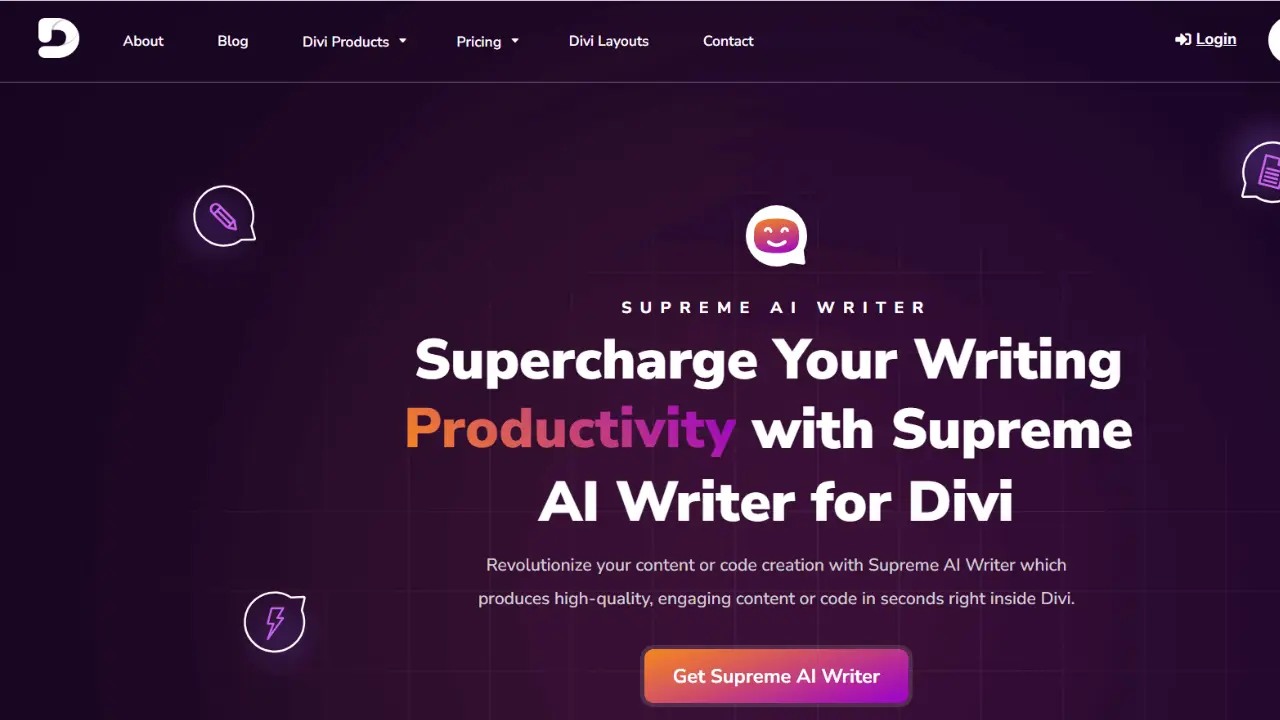 Supreme AI Writer is a powerful plugin specifically designed for Divi, a widely used WordPress page builder. This innovative tool leverages OpenAI's ChatGPT to effortlessly produce top-notch, captivating content within seconds.
Key Features of Supreme AI Writer:
Seamless Divi Integration: Supreme AI Writer easily integrates with Divi, allowing users to access its features directly within the WordPress page builder.
Content and Code Generation: By utilizing OpenAI's ChatGPT, the tool generates high-quality content and code that meets your specific requirements.
Error Detection and Correction: Supreme AI Writer automatically identifies and fixes errors in grammar, spelling, punctuation, and sentence structure, ensuring polished and professional output.
Customizable Output: Users have the flexibility to determine the desired length of the generated content and can refine it until they are completely satisfied with the results.
Convenient Accessibility: Access Supreme AI Writer effortlessly from anywhere on the page through the convenient Toolbar located at the bottom.
Ideal Users of Supreme AI Writer Review:
Copywriters and Content Creators: Those who utilize Divi for website development can greatly benefit from the content generation capabilities of Supreme AI Writer.
Developers: Developers who rely on Divi for their coding needs can take advantage of Supreme AI Writer's code generation feature to save time and enhance their workflow.
Individuals Seeking Efficiency: Anyone in need of quickly generating high-quality content and code can rely on Supreme AI Writer for a hassle-free experience.
Conclusion: Supreme AI Writer revolutionizes content creation for Divi users by seamlessly integrating AI capabilities into the process. With its user-friendly features and exceptional performance, Supreme AI Writer empowers copywriters, content creators, and developers to generate engaging and polished content and code effortlessly with AI tools.
How to use Supreme AI Writer for free?
The 14-day trial period for Supreme AI Writer is free and includes full access to all of the plugin's capabilities. To keep using the plugin after the trial period, you must buy a subscription.
Supreme AI Writer Alternative