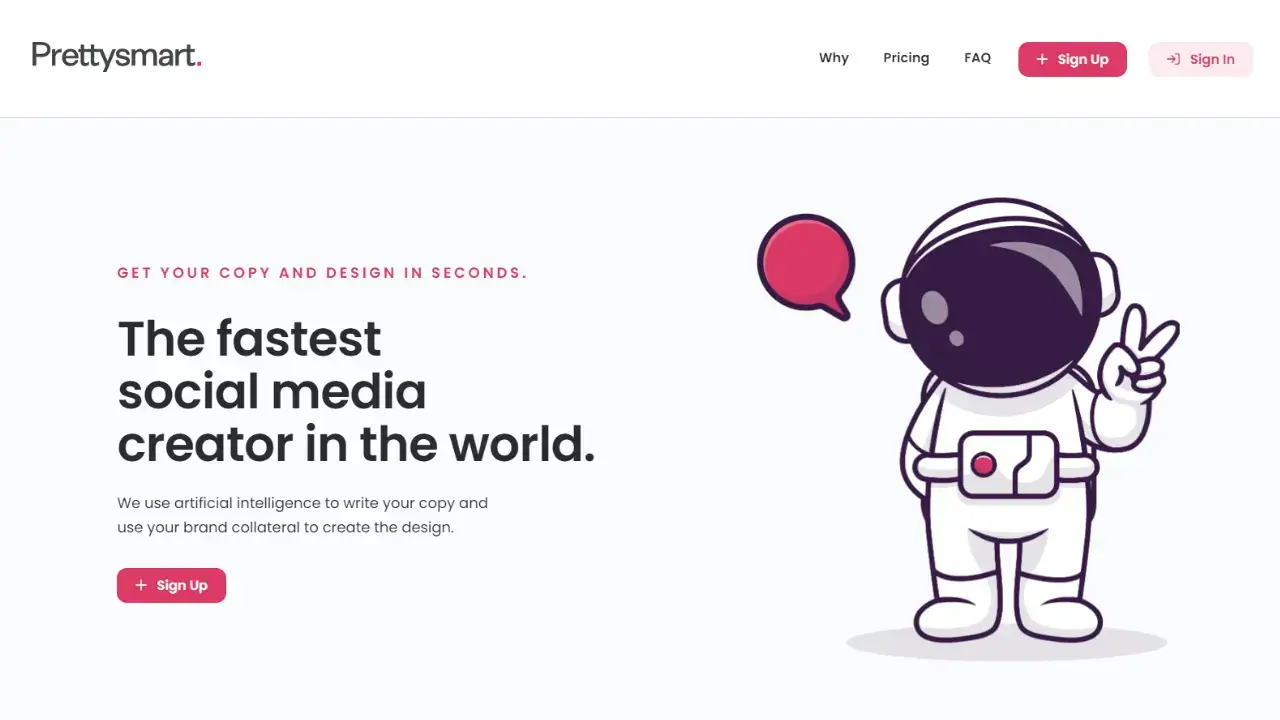 PrettySmart AI is an incredible AI-powered platform that makes it incredibly simple for anyone to publish engaging and eye-catching social media posts. You don't need to be a designer or a copywriter because PrettySmart AI does all the hard work for you! Let's take a look at what makes this platform so amazing:
Key Features of PrettySmart AI:
AI-Powered Post Creation: PrettySmart AI uses advanced AI technology to generate persuasive and engaging content for your social media posts. This means you'll always have a fantastic copy that captures your audience's attention.
Brand Collateral Integration: You can upload your logos, fonts, and colors to maintain consistent and professional visual branding across all your posts. It's effortless to keep your brand identity intact.
Template Library: Choose from a wide variety of customizable templates that are perfect for different social media platforms. Whether it's Instagram, Facebook, or Twitter, PrettySmart AI has you covered.
Drag-and-Drop Editor: This editor's drag-and-drop features make it an excellent user-friendly AI tool. You can easily customize your posts without any hassle-free.
Free Stock Photos: Access an extensive collection of high-quality stock photos to use in your posts. Say goodbye to worrying about finding the perfect images for your content.
Efficient Workflow: With PrettySmart AI, you can create hundreds of posts in just minutes. It's a remarkably effective technique to manage your online presence.
24/7 Support: If you ever need help or have questions, PrettySmart AI offers round-the-clock support to assist you.
7-Day Free Trial: Not sure if PrettySmart AI is right for you? No worries! You can explore all its features with a 7-day free trial before making a commitment.
Use Cases of PrettySmart AI Review:
Small Businesses and Startups: If you're running a small business or a startup, PrettySmart AI is the perfect tool to create professional and eye-catching social media posts without hiring a dedicated designer or copywriter.
Social Media Managers and Marketers: For those managing social media accounts or working in marketing, PrettySmart AI streamlines the post-creation process and saves you valuable time.
Content Creators and Influencers: Maintain a consistent visual identity across all your social media platforms with PrettySmart AI. Your followers will love the cohesive look of your posts.
Individuals and Professionals: Enhance your personal brand and online presence by creating engaging social media posts with PrettySmart AI.
Businesses with Limited Resources: If you have limited resources for social media content creation, PrettySmart AI's AI-powered features are a game-changer. You can create visually appealing posts efficiently and effectively.
In conclusion, PrettySmart AI is a game-changing AI-powered platform that simplifies the process of creating stunning social media posts. With its AI capabilities, you can save time, maintain brand consistency, and boost your social media presence without the need for specialized design or copywriting skills. Try PrettySmart.co today and see the difference it makes for your social media strategy!
How to use PrettySmart AI for free?
Remember to keep an eye on any limitations or restrictions that might apply to the free version, as they may have certain usage caps or fewer features compared to the paid plans. If you find that PrettySmart is a valuable tool for your social media needs, consider upgrading to a paid plan once the free trial period ends or when you need access to additional features. Before joining any service, make sure you know and agree with its rules and limitations.
PrettySmart AI Alternative
SocialBee
AI Post Generator
FederAI
Buffer