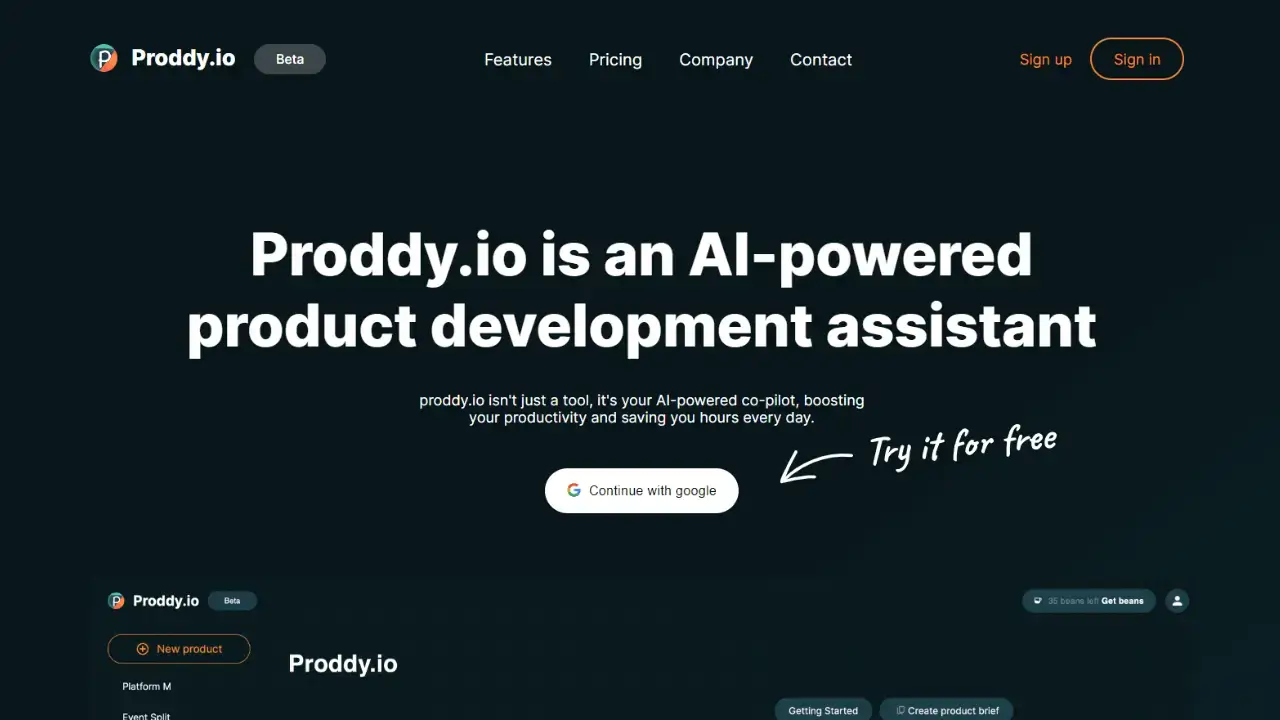 Proddy AI is an ultimate AI tool that transforms the way product development is managed. Using the power of cutting-edge technology, Proddy.io acts like a virtual expert Product manager and guides users through the implementation process. It also helps to produce best practices and make creative product documentation.
Key Features of Proddy AI:
AI-Powered Expertise: Proddy.io has advanced features to provide expert guidance. It helps to translate basic principles into formal management documentation.
Streamlined Product Development: Say goodbye to time-consuming work and automatically create product details and documentation.
Versatile User Base: Proddy AI has a wide range of user support features such as Product Managers, Founders, Entrepreneurs and small businesses.
Enhanced Productivity: With consuming time and effort it maintains the workflow and automatic documentation tasks. Proddy AI increases users' focus on more product development strategies.
Clear Communication: Proddy AI aims to produce ideas and details that are transformed into clear and usable documentation, it decreases the rate of misunderstanding and improves communication.
Creative Unleashing: Proddy AI allows the creativity of transforming motivational speech into detailed product briefs that make it a valuable tool for idea development.
Free-Trial Option: Users can experience the capabilities of Proddy.io through a free trial and check the benefits before making trust.
Use Cases for Proddy AI Review:
Efficiency: Proddy AI increases the rate of product development by creating documents automatically.
Product Best Practice: The tool ensures the products will be developed by the brand's best practices and guidelines.
Time Saving: Without consuming time and effort users can create documentation tasks.
Clear Instructions: This tool transforms instructions into clear and comprehensive product details, reduces the rate of misunderstanding and improves communication.
Creativity Enhancement: Proddy helps users turn their ideas into detailed product briefs that increase their creativity and exploration.
Summary: Proddy AI is A game-changing AI-powered tool that increases product development by automatically producing product documentation. Aims to be an expert Product Manager and guide users through clear and comprehensive product details. Proddy can enhance productivity and creativity. Users like product managers, founders, entrepreneurs, or small businessmen can experience the product development process through free trial and seek the benefit of it.
How to use Proddy AI for free?
Remember that while these platforms are free to use, some might have usage limitations or require you to create an account. Furthermore, services and products can change over time, so I recommend reviewing the most recent information and terms of service for any site you're considering.

If "Proddy AI" is a service that has emerged after my last update, I suggest visiting their official website or documentation to learn about their pricing plans, including any free options they might offer.
Proddy AI Alternative
Magical
Monica
Loopin AI
Vondy AI
Notion AI