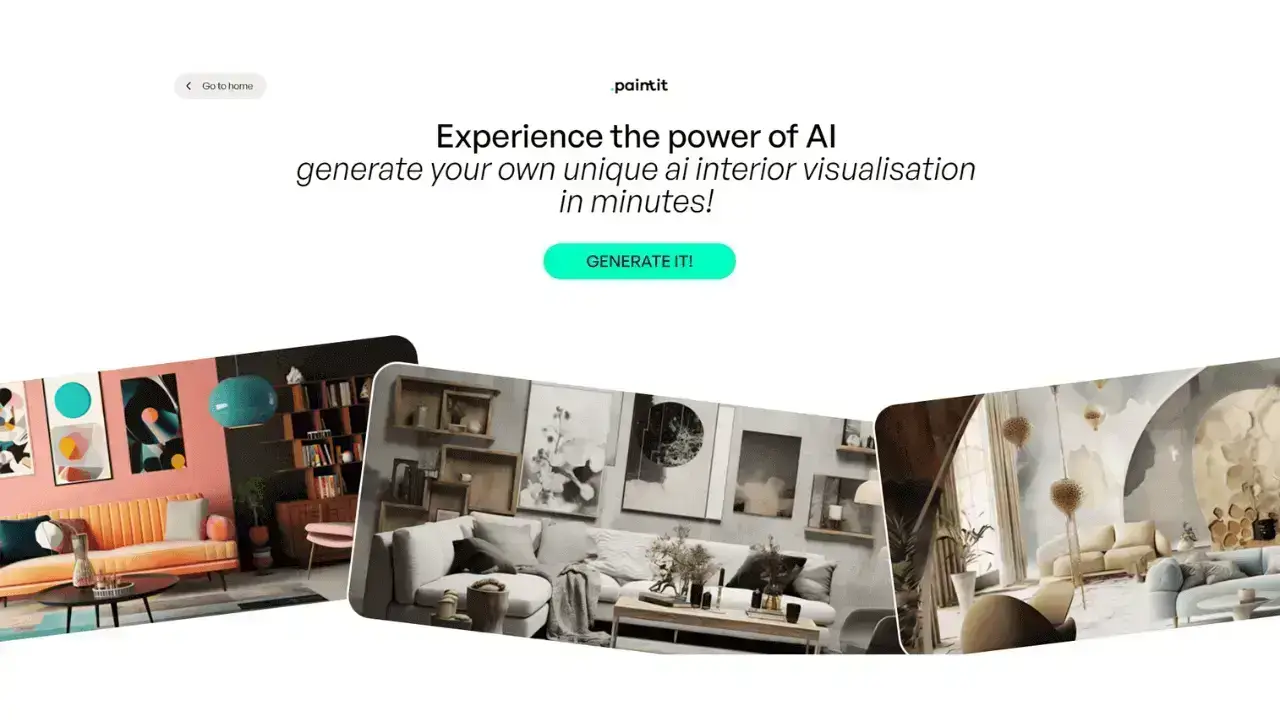 Paintit AI is a groundbreaking tool that leverages the power of artificial intelligence (AI) to make interior visualization easy and convenient for everyone. This innovative tool enables users to transform their dream spaces into reality, allowing them to create personalized environments that align perfectly with their vision.
Here are the key features of Paintit AI:
AI-powered Interior Visualization: Interior visualization driven by AI: Using cutting-edge AI algorithms, Paintit AI creates original interior visualizations based on the user's input. This ensures that each visualization is unique and tailored to the user's specific preferences.
Customization Options: Paintit ai offers a wide range of customization options, including different color schemes, furniture layouts, lighting choices, and decorative elements. This allows users to personalize their visualizations and create spaces that truly reflect their style and taste.
Realistic and Immersive Visuals: Paintit ai seamlessly integrates all the elements of visualization to provide a realistic and immersive experience. The visualizations produced by the tool are highly detailed and lifelike, giving users a clear idea of how their chosen elements will look together in their desired space.
Accessibility and User-friendliness: Paintit ai is designed to be user-friendly and accessible to individuals of all skill levels. You don't need any complex software or design expertise to use the tool effectively. Its intuitive interface and straightforward controls make it easy for anyone to create stunning interior visualizations.
Collaboration and Sharing: The tool facilitates collaboration and sharing of visualizations among different stakeholders. Homeowners, interior designers, and contractors can easily collaborate and exchange feedback on the visualizations, making it simpler to bring design ideas to life and make informed decisions.
Efficient Design Process: Paintit ai streamlines the process of turning design ideas into reality. With its efficient workflow and intuitive tools, users can bring their creative concepts to life and create personalized spaces more efficiently and effectively.
Inspiration and Creativity: Paintit AI empowers users to unleash their creativity and explore endless possibilities in designing their spaces. To create homes that genuinely reflect their personalities, users can experiment with different designs, color schemes, and furniture arrangements using the tool as a source of inspiration.
Use Cases of Paintit AI Review:
Visualizing and designing various interior spaces, including living rooms, kitchens, bedrooms, and more.
Collaborating with homeowners, interior designers, and contractors to transform design ideas into tangible visualizations.
Experimenting with different styles, color schemes, and furniture layouts to create personalized and unique environments with AI tools.
Paintit.ai is a game-changing tool that harnesses the power of AI to make interior visualization accessible and exciting for everyone. Its user-friendly interface, extensive customization options, and collaboration features enable users to create stunning interior visualizations that accurately represent their vision and preferences. Let's PAINT IT and bring your dream space to life!
How to use Paintit AI for free?
It's important to note that the availability of the free features and limitations may vary depending on the specific platform or version of Paintit AI. Be sure to check the website or tool documentation for any additional details or restrictions. Enjoy using Paintit AI for free and unleash your creativity in bringing your dream interior spaces to life!
Paintit AI Alternative