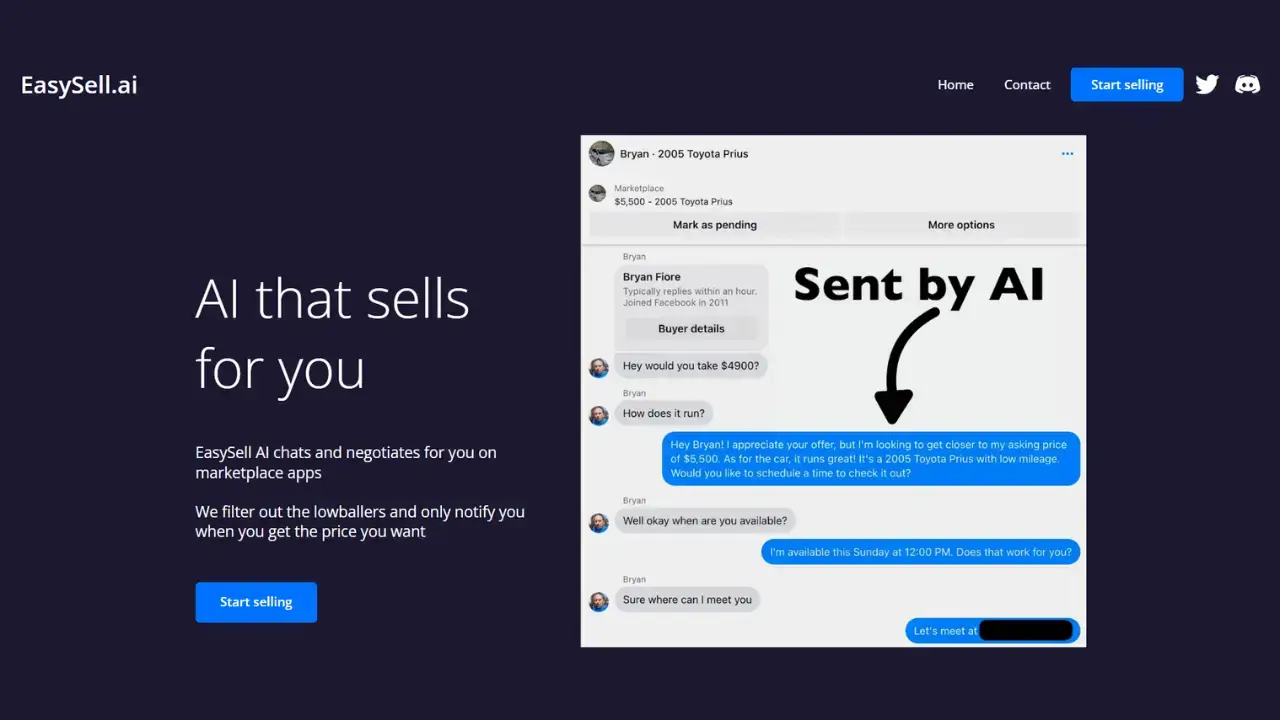 Easy Sell AI is the creative, unique, and game-changer AI that transforms users' selling experience on marketplace apps. It's time to say goodbye to the frustrations of dealing with low offers and time-consuming negotiations. Using Easy Sell AI users have a creative and powerful negotiator by their side. It will increase profits and decrease efforts.
Key Features of Easy Sell AI:
AI Negotiation Power: Easy Sell AI teaches how to sell with advanced AI negotiation strategies. If you want to get more price without any problem, let AI handle negotiations for you.
Optimized Styles: There were different negotiation styles creative, optimized, and respectful. It's time to match your approach to your preferences and selling goals.
Lowball Filter: Time to say goodbye to time wasting on lowball offers, Easy Sell AI filters out lowballers and sends a notification to you only when a comfortable offer comes to your looking price.
Hands-Free Selling: Let AI handle your work, it will take care of negotiations and help you to give more focus on the other important works.
Effortless Communication: No tension for finding good words to negotiate, Easy Sell AI handles the communication and helps you to ensure a positive interaction with buyers.
Use Cases for Easy Sell AI Review:
Maximize Profits: AI increases your negotiations and ensures good profit for your items.
Time-Saving: Let this AI handle the negotiations and wait for a response. AI will ensure great conversations with buyers.
Stress Reduction: Selling is very stressful for the mind but with Easy Sell AI this process becomes easier and hassle-free.
Quality Interactions: Easy Sell AI ensures respectful, aggressive, and optimized communication with buyers, it will increase the selling experience.
Overall, Easy Sell AI makes an easy path for your sell-in marketplace apps through creative AI-powered negotiations. Filtering lowball offers this tool to take stress off you and give you maximize profit. No matter if you're a casual seller or a seasoned pro. easysell.ai will be a trusted partner for your successful and stress-free selling on marketplace apps.
How to use Easy Sell AI for free online?
EasySell AI is a freemium tool, which means that you can use it for free with limited features, or you can upgrade to a paid plan for more features.

To use EasySell AI for free, you can follow these steps:

Go to the EasySell AI website.
Click on the "Free Trial" button.
Enter your email address and create a password.
Click on the "Start Free Trial" button.

You will then be able to use EasySell AI for free for 14 days. After the 14-day trial period, you will need to upgrade to a paid plan if you want to continue using the tool.
Easy Sell AI Alternative