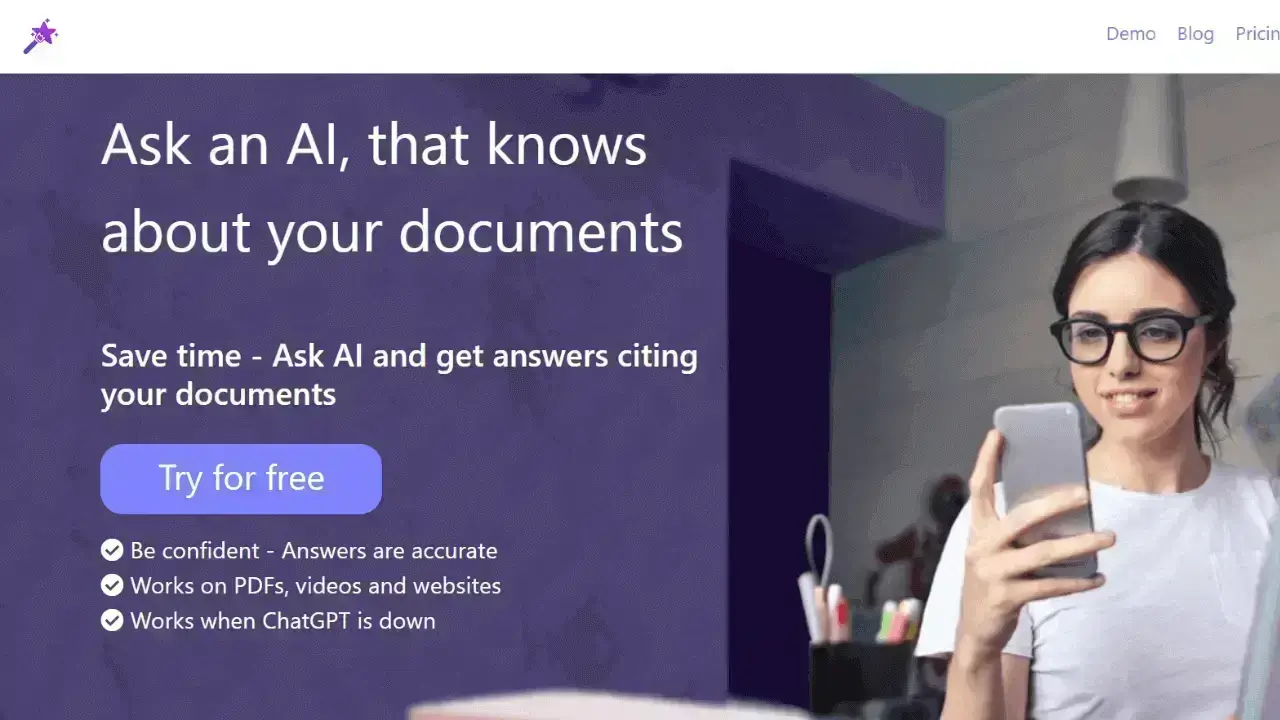 AnyQuestions AI is an artificial intelligence AI tool that helps users ask questions and get accurate answers from their documents and videos. It uses advanced technology to understand the text in different file types and provide precise responses to user queries.
Key Features of AnyQuestions AI:
Accurate Answer Generation: AnyQuestions.ai uses smart algorithms to extract text from documents and videos, allowing it to generate accurate answers to user questions.
Support for Multiple File Types: Many kinds of files, even PDFs, videos, and web pages, can be performed by this tool. It enables users to extract information from different sources.
Flashcard Generation: AnyQuestions.ai can create flashcards from uploaded documents. This feature helps users study effectively and remember important information.
Data Privacy Compliance: AnyQuestions.ai adheres to strict privacy standards such as GDPR, DPA 2018, and ISO 27001. Users may have trust because their data is safe and secure.
Tailored Learning Maps: AnyQuestions.ai provides personalized learning maps that visually represent a user's knowledge. These maps help identify areas where further learning and improvement are needed.
Free Trial: Users can sign up for a free trial and upload up to three documents to experience the capabilities of AnyQuestions.ai.
Use Cases for AnyQuestions AI Review:
Study Aid: Students can use AnyQuestions.ai to get quick and accurate answers related to their study materials. It helps them enhance their understanding and grasp of the subject matter.
Research Assistance: Professionals and researchers can save time by using AnyQuestions.ai to extract information from documents and videos. It also provides accurate citations for research projects.
Knowledge Retention: AnyQuestions.ai's flashcard generation feature converts document content into easily reviewable flashcards. This feature supports efficient study and helps users retain knowledge.
Personalized Learning: The tailored learning maps offered by AnyQuestions.ai visualize a user's knowledge. They help identify areas that require further learning and improvement.
In summary, AnyQuestions.ai is an AI tool that allows users to ask questions and get accurate answers from their documents and videos. Students, scholars, and anybody else looking for exact information might benefit greatly from it.
How to use AnyQuestions AI for free?
Remember that there might be limitations on the quantity of documents you can upload or how long the free trial will run. Make sure to become informed of the conditions and limitations of the free trial offer before using AnyQuestions.ai to get the most out of it.
AnyQuestions AI Alternative